Outside// 2020 is Here
It's officially summer and you know what that means! Outside//, the MASCO and member-sponsored placemaking program, is returning for its second year Monday, July 13th, 2020.  The yellow umbrellas are back along with outdoor furniture and fun things to do around the LMA.
Outside// began in 2019 with the goal of providing opportunities for those who work and visit the LMA to take a pause from their day.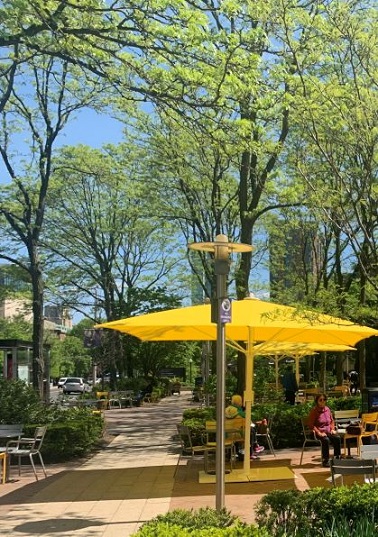 Fresh air is important.
Creativity is important.
Music is important.
Good food is important. 
Breaks from work are important.
Beth Israel Deaconess Medical Center, Brigham and Women's Hospital, Boston Children's Hospital, Dana-Farber Cancer Institute, and Harvard Medical School have all partnered with MASCO to make sure that the community will still have access to all these things in a safe way. In addition to significantly scaling back programming and events the following safety and sanitation measures will be in effect through the program's duration:
Tables, chairs and umbrellas are placed in adherence with proper social distancing measures.
Hand sanitizing and sunscreen stations are available at multiple sites. 
Site ambassadors will regularly clean the tables and chairs in an effort to sanitize these frequently touched surfaces.
Signage is in place to reinforce each institution's and the CDC's rules. 
This summer the program will feature food trucks at two sites. Additional outside furniture will both deliver a dose of vitamin D supplement institutions' indoor dining venues and further allow for safe, socially distanced meal breaks as more people return to the LMA. Art frames, with a focus on the science and research the LMA is famous for, will return. Roving musicians are also returning with soloists and duets. Outside// programming will run through September 18th, 2020.A map of the program sites and the schedule of programs will be available soon at www.LongwoodOutside.org. Don't forget to get outside and take a break!