LONGWOOD COLLECTIVE RELAUNCHES OUTSIDE// PLACEMAKING PROGRAM WITH SUMMER-LONG FOOD, FUN, AND FREE PERFORMANCES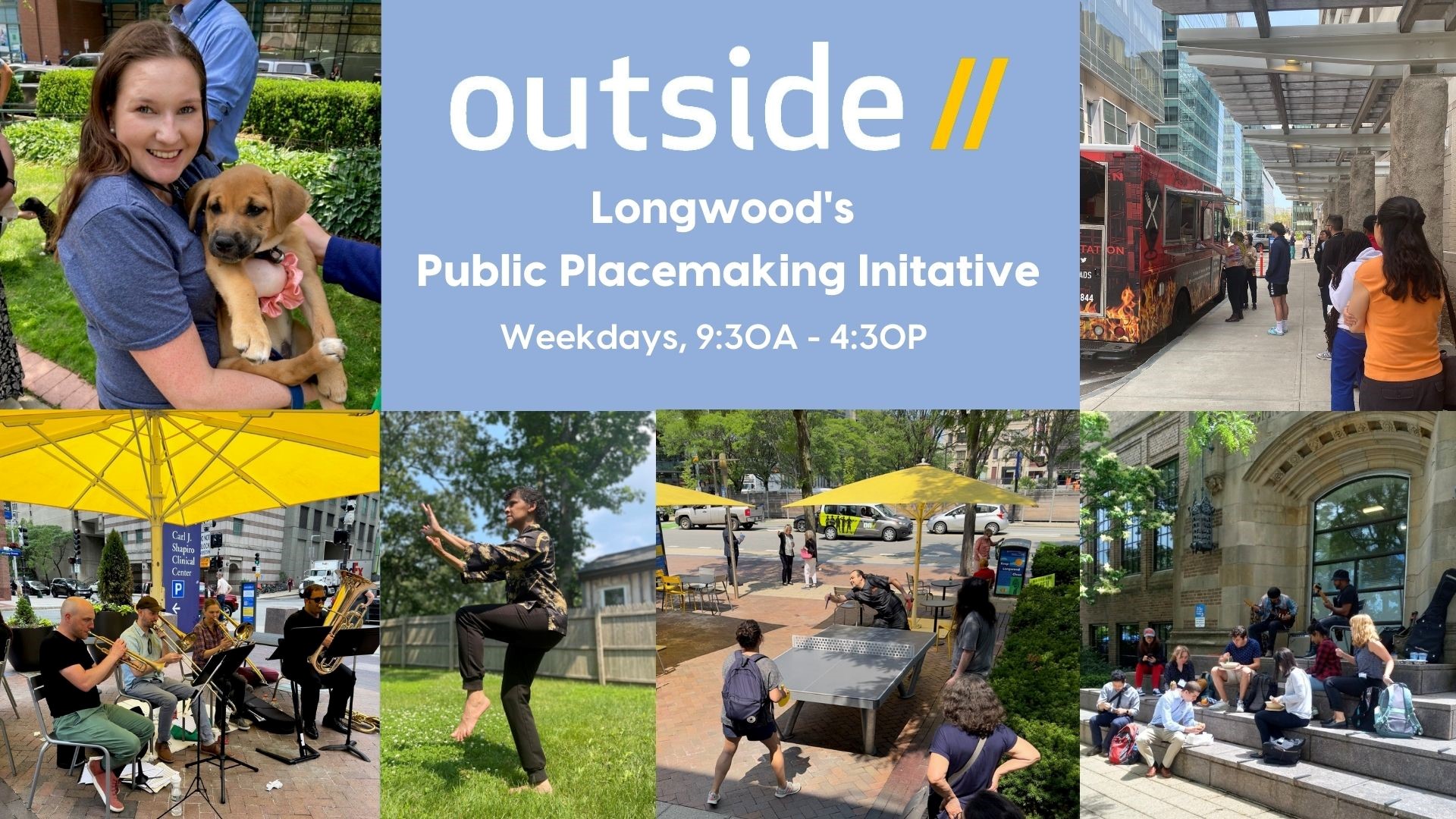 BOSTON – The Longwood Collective's popular "Outside//" placemaking program is in full swing in the Longwood Medical and Academic Area (LMA), featuring fun activities, musical performances, outdoor art, food trucks, fitness classes, and other amenities free and publicly available for LMA employees, patients, students, and visitors.
Outside// this year is offering free outdoor live concerts through the "Bands on Blackfan" series, with the next concert scheduled for Thursday, July 20th from 11:30 a.m. – 1:30 p.m. at the Emmanuel Lawn (33 Ave Louis Pasteur) featuring the band 'The Eli Cash Band.' This year, the Outside// program will also bring activations to two new LMA locations, including the Brigham and Women's Hospital Cohn Courtyard and Emmanuel College lawn, in addition to the nine programmed with activities last year.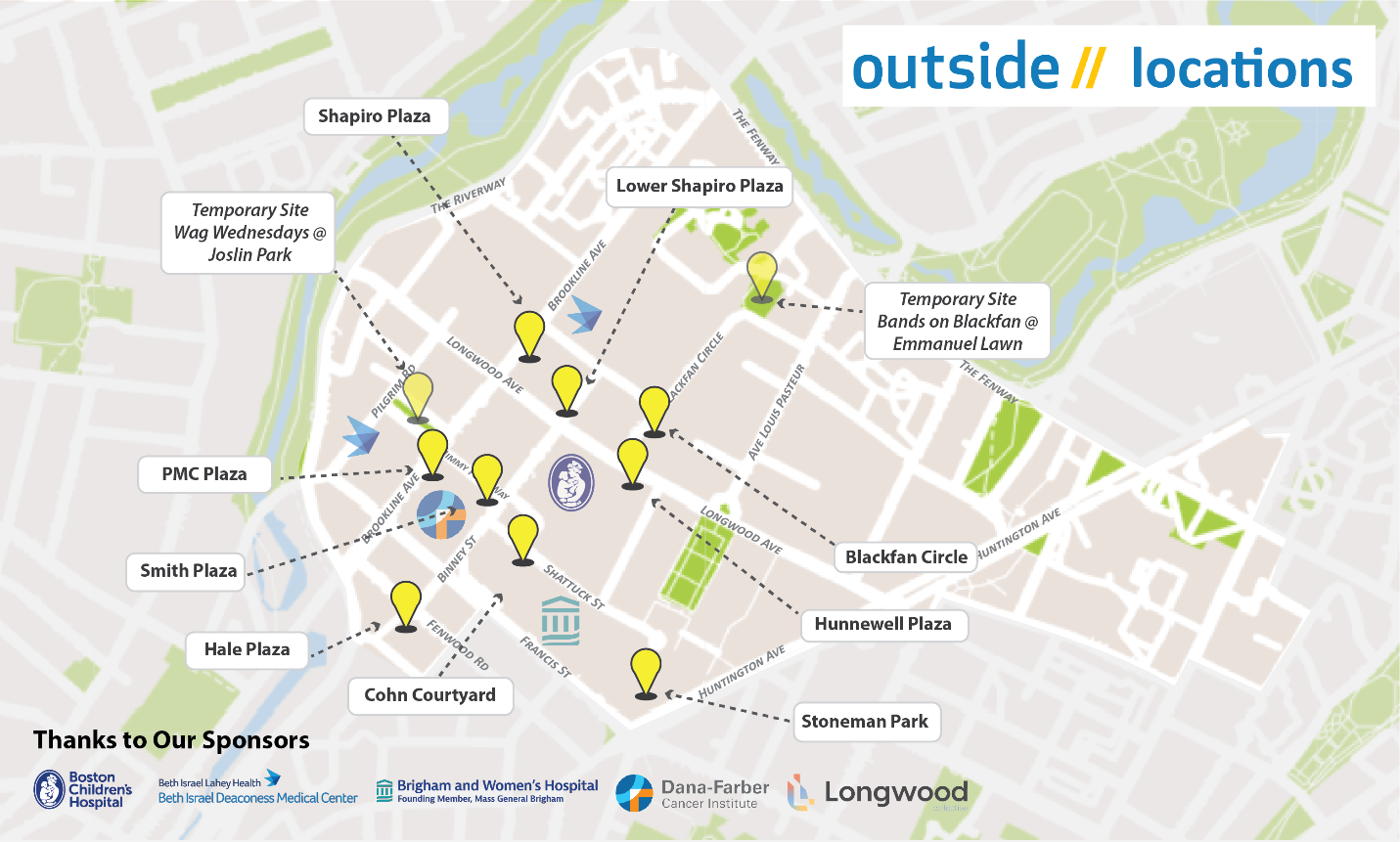 "We first created Outside// in 2019 in partnership with Boston Children's Hospital, Beth Israel Deaconess Medical Center, Brigham and Women's Hospital, and Dana-Farber Cancer Institute to activate private plazas and walkways as public spaces for our workers, students, and visitors to relax, have fun, and connect with one another,'' said Longwood Collective CEO David Sweeney. "What started as a pilot program became a truly essential service during the COVID-19 pandemic and much-loved cornerstone program for our neighborhood, and we're excited to bring Outside// back bigger and better for this summer.''
In addition to weekly food truck visits, fitness classes, a 400-title outdoor Reading Room library and game cart, the Outside// program in partnership with CommuteWorks, Longwood Collective's Transportation Management Association, also offers free bicycle tune-ups for bike commuters and organized lawn games. Last summer more than 200 people came each week for the "Wag Wednesday" dog program that lets people visit with and adopt dogs, and the program provided 20 hours of live music performances each week. Longwood Collective surveys have found that 56 percent of all LMA's 68,000 employees have visited more than one Outside// site or activity.
Rachel Dowley Alexander, Longwood Collective Urban Planner/Designer, who leads Outside//, said, "Over the last year, we've heard from our members about how much they look to our Outside// program to create moments of joy and 'bring a culture of care outside' to complement the extraordinary work our hospitals and medical centers perform every day, and that has shaped how we've designed the 2023 season. We also all see Outside// as another way to continue to make the LMA even more inviting and welcoming to people from all backgrounds and all neighborhoods of Boston and surrounding communities.''
Outside// is supported by a team of three front-line "ambassadors" who help engage people with available programs and amenities and a team leader from Block by Block, a Kentucky-based firm that provides a suite of services to activate and maintain business and academic/medical districts like the LMA in Boston and cities throughout the country.
Additional images: