Leadership In Sustainability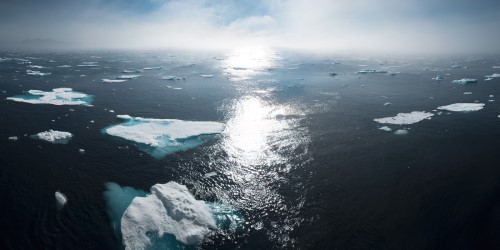 Photo: William Bossen
Reaching Net Zero: How Embracing the Squiggle Can Help Us Succeed
The last four years have been the hottest on record, and winter temperatures in the Arctic have risen by 3°C since 1990. Sea levels are rising, coral reefs are dying, and we are starting to see the life-threatening impact of climate change on health, through air pollution, heatwaves and food shortages. With the drama that has unfolded following the UN Climate Action Summit this September  due to weak commitments to curb climate change by the world's biggest emitters, many feel frustrated by the inactions of global leaders. Here in Longwood, we take solace in the knowledge that our institutions are actively addressing global warming with powerful leadership and a commitment to open communication.
A Longwood Leadership Forum
Thirty people attended the MASCO Leadership Forum on September, 9th, 2019, at BIDMC, including members' vice presidents, directors, and managers.  Leith Sharp, Director and Lead Faculty of the Executive Education for Sustainability Leadership at Harvard's Center for Health and the Global Environment, presented a powerful new model for positioning sustainability as a driver of innovation, agility and organizational design. She stated that this management model has already been validated by a variety of representatives from business, government, nonprofit and higher education on an international scale.
Embracing the Squiggle
Ms. Sharp shared a number of personal anecdotes as examples of how agile leaders can toggle between hierarchical systems, the more traditional top-down leadership, and adaptive networking, or leadership that adapts to the current environment to find sustainable solutions faster.  This management technique can be used to generate new solutions "with leadership setting the bumpers," to streamline process, find, implement and scale solutions faster, and do so with a compelling sense of shared purpose.   Several members are already planning to apply their new-found perspective and knowledge to evaluate how they may improve their organizational flow to find and scale sustainable solutions. In mapping this oscillation she explained the need to embrace "the squiggle" or the messy multi-tiered process of creating and developing sustainable solutions; in other words, sustainable change is never a straight shot, but a succession of failures and wins.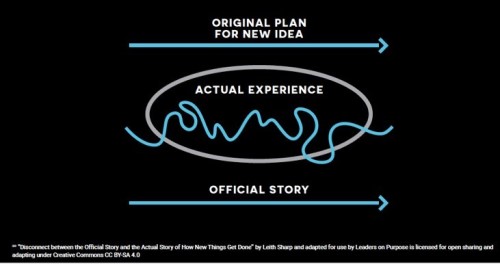 Image: Leith Sharp
How many years to change a light bulb…
The "official story" we tell each other about creating sustainable solutions is not really that easy, according to Ms. Sharp based on thousands of test cases. Ms. Sharp used the example of Harvard's switching to LED light bulbs - a process that took "three months of constant facilitation by the change management team" - and ultimately three years to complete.   "We need to do a better job of telling the real story," she said. People become demoralized when they think they are the only ones having difficulty.  Making real substantive change is genuinely difficult in large organizations and requires agile leadership to know when to use certain approaches and how to create the right environment, or 'vibe', to inspire teams to work to their most invested, fullest potential.
Failing Forward, Finding Solutions
Adaptive networks need a sense of shared purpose and a psychologically safe environment in which new ideas can be shared openly.  As leaders create these environments and learn when to employ each leadership approach, design thinking can be used to "reduce friction and increase flow," which enables the best ideas to scale up more quickly.  Ms. Sharp explained that an honest "official story" is not a simple linear progression to find and implement solutions; in the best circumstances there is oscillation, the ability to "fail forward," and a shared language and positive felt experience.
MASCO will work with its member sustainability leaders in its committees to continue testing pilot programs to find and ultimately achieve sustainable solutions.