At the intersection of Avenue Louis Pasteur and Longwood Ave, there are traffic calming features to improve safety.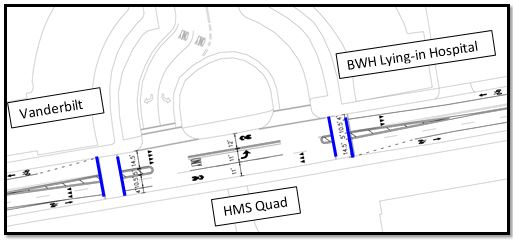 Please Remember:
Cross only in crosswalks.
Be Alert! Even when the "Walk" signal is lit, look both ways before crossing and for bikes or cars turning onto the road you are crossing.  Look up from your cell phone.
Be bright! Wear clothing with bright colors or reflective strips, especially at night.
At unsignalized crosswalks, like at Avenue Louis Pasteur, push the button on the flashing beacons and look both ways before crossing.
Share sidewalks with people using strollers and wheelchairs.
Resources: